Bike To Work Week 2017
*****************************
2016 Bike-to-Work Recap

CLICK IMAGE ABOVE TO WATCH VIDEO

THURSDAY, MAY 19TH  
If it's a "party" and Mellow Velo is involved, you can bet it will be a good time! Bring your bike and a friend or two!
Single Track High: A film about kids who ride. At the age of 16, many American kids trade in two wheels for four. Trusty steeds that once gave them freedom to explore on weekends now collect dust in the garage. For a growing number of high school students in Northern California, however, two wheels don't get dusty, they get dirty. Their lives continue to revolve around weekend rides, but now those rides have a finish line. These are the student athletes of the NorCal High School Cycling League. This is Singletrack High.
The Rider and the Wolf: The Rider and the Wolf does a tremendous job documenting the emergence of mountain biking in Colorado and features wild, archival footage from the sport's early days juxtaposed with some beautifully captured, modern day shred sessions. The film employs dramatic reenactments, home movie footage, interviews with family and friends and Mike's own words in chronicling Rust's journey from CB to Salida and finally to his expansive, off the grid property in Colorado's San Luis Valley. The picture unveils some intriguing angles into Rust's sudden disappearance but in the end, the mystery of Mike the Bike persists.
FRIDAY, MAY 20TH
7:45-8:30AM
Bike to Breakfast Burritos @ Historic Santa Fe Depot – Railyard District
What is quickly becoming a Bike-to-Work Day tradition, free breakfast burritos sponsored by ECO MOTIVE BIKES  !
Pedal to the Railyard and test out one of the many electric bikes Eco Motive has to offer but get there early the burritos go quickly!
Contact: ecomotivebikes@gmail.com
4PM-6PM
Bike-To-Work Santa Fe: Fiesta Bicicleta! @ Fort Marcy Park
Yes, that park where they burn Zozobra! Meet up with your fellow commuters and bicycle fans as we gather to celebrate the community's commitment to building a world class bicycling destination.
Booths

Santa Fe Trails Bus Demos with Bike Rack

Give-Aways

A tradition: Beat the Goathead Pinata and chase away the evil spirits that haunt your tubes!

Enjoy the proximity to all the events at Outside's Bike and Brew Fest occurring just across the acequia.
_
SATURDAY, MAY 21ST
This is one incredible cause… please check it out and the good folks at SpinDoc are incredible too!
WORLD BICYCLE RELIEF FUND RAISING STARTS NOW We are encouraging our ridership (and readership!) to start your fundraising efforts for World Bicycle Relief a little earlier this year. Start thinking now how you would like to participate. We have set a fundraising goal of $5,000 for this year — so let's get to it! Already several people have made their donation. If you wait until the weekend of May 21-22, you can make your donation at the shop to applause and cowbells! (Donations are accepted year round, but we ask that if possible they be turned in by June 7 so that the funds can be sent in to WBR.)
WBR is… Simple, sustainable bicycle transportation multiplies an individual's efficiency. Compared to walking, bikes improve access to education, healthcare and economic opportunity. They increase carrying capacity and accessible travel distance while decreasing the time it takes to commute to schools, clinics and markets.
World Bicycle Relief's Buffalo Bicycle has earned a reputation for durability, functionality and affordability – organizations, businesses and individuals world-wide turn to WBR for proven solutions to their transportation needs.
1PM – 3PM
Bike Rodeo for Kids! @ Fort Marcy Park (Back Lot)
Kid's age 5-12 years, free hands-on bike riding activities, bike helmets and prizes for participation!
Contact: Carlos Sanchez, 955-2146 or mailto:cmsanchez@santafenm.gov
SUNDAY, MAY 22nd
7AM
Santa Fe Century @ Christus St. Vincent Medical Center
The tradition continues…
A new tradition is born…
The BME 2016 season opener will kick off in Santa Fe, NM on May 22nd where a one-day backcountry race entailing upwards of 7'500 feet of long rocky descents await. Expect super raw terrain, an abundance of brand new trails on private land that have never been raced on, along with full pedal transfers the entire day.
Contact
Erick Aune at ejaune@santafenm.gov or 505-955-6664
*****************************
2015 Bike-to-Work Recap
 Congratulations to Desirae Lujan
Winner of the Cinelli Gazzetta Urban Bike
Also, a big thank you to all who took the time to enter, gave use your input and braved the rain and cold to attend the drawing.
*****************************
2015 Bikeways and Trails Map
————————————————————-
Contact
Erick Aune at ejaune@santafenm.gov or 505-955-6664
—————————————————————–
-------------------------------------------------
2014 Bike-to-Work Recap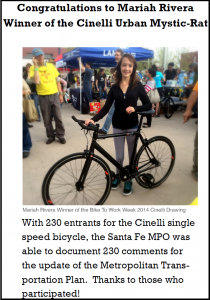 —————————————————————–
—————————————————————-
—————————————————————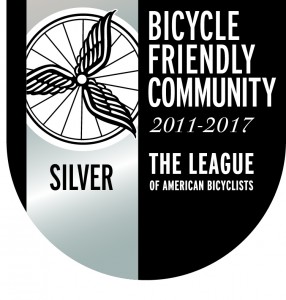 Page Last Updated – May 1, 2017