Santa Fe MPO Announcements
---
and
---
FFY2020-21 Congestion Mitigation and Air Quality Improvement (CMAQ) Non-Mandatory – Call for Projects
Application Schedule Summary
 Wednesday, August 15th, 2018 – Release of Call for Projects/Applications
 Tuesday September 18, 2018 – Deadline to Submit Project Feasibility Form Electronically to the
Santa Fe MPO at ejaune@santafenm.gov (5:00PM)
 Monday October 15th, – Friday September 19, 2018 – Technical Review & Support of submitted
PFFs with MPO & NMDOT staff – Meeting will be set up and scheduled by the MPO.
 Friday November 30th, 2018 – Deadline for Agencies to Submit CMAQ Non-Mandatory Project
Application Electronically to the Santa Fe MPO at dsgarcia@santafenm.gov (5:00PM)
 December 30, 2018 – Deadline for the Santa Fe MPO to Submit CMAQ Non-Mandatory
Project Applications to the NMDOT CMAQ Non-Mandatory Coordinator (5:00PM)
For all details please download the following.
MPO Staff Contact
Derrick Garcia
MPO Transportation Planner
dsgarcia@santafenm.gov or 505-955-6716
PROPOSED TIP AMENDMENTS (4) AND 15 DAY PUBLIC INPUT NOTICE
PUBLIC INPUT NOTICE PERIOD: August 3rd – August 17th, 2018 
On Monday, July 23rd the members of the TCC recommended the following project amendments and new projects be considered for approval:
Request for New Projects
#1.  TS00130 (5024.18) Construction of Southside Transit Center:   REHABILITATION OF AN EXISTING BUILDING AND CONSTRUCTION OF BUS STOP INFRASTRUCTURE AND PARKING.
FFY2019 – $2,036,562 Section 5339 FTA/$509,141 Local Match for Construction 
#2. S100600 (1060.19 Arroyo De Los Chamisos Crossing Study [CITY LEAD]: Utilize "Location Study Procedures/Alignment/Corridor Study Process to develop alternative crossings of the Arroyo De Chamisos between Zafarano and Avenida de las Campanas north of Rodeo Road
FFY2019 – $150,000 Local Funds
Amendment:
#1. S100370 Agua Fria St/Cottonwood Drive Intersection [CITY LEAD] – DESIGN, ROW ACQUISITION AND CONSTRUCTION OF A ROUNDABOUT AT THE INTERSECTION.  
Additional Money for Lighting $76,000 FFY2019, HSIP Funds
#2. S100460 Guadalupe Road Reconstruction‐ [CITY LEAD] THE PROPOSED PROJECT IDENTIFIED THROUGH THE RSA IS THE FOLLOWING: LANE REDUCTION, PEDESTRIAN IMPROVEMENT, BICYCLE IMPROVEMENTS, SIGNALIZED INTERSECTIONS IMPROVEMENTS, LIGHTING, DRAINAGE ACCOMIDATIONS, NEW SIGNING AND STRIPING.  
Grand Total HSIP Award = $4,150,000 FFY 2020 (Additional Funds $525,000)
Move FFY19 Cons to FFY20
Add additional $52,200 CMAQ FF19 for additional design
The approved TIP can be downloaded from the Santa Fe MPO Website at: http://santafempo.org/documents/tip/
ACCESS LOCAL, REGIONAL AND STATEWIDE TRANSPORTATION IMPROVEMENT PROJECTS VIA THE "eSTIP" OR ELECTRONIC STATE TRANSPORTATION IMPROVEMENT PROGRAM
CALL FOR PROJECTS FEDERAL FISCAL YEARS 2020/2021 TRANSPORTATION ALTERNATIVE PROGRAM (TAP) AND RECREATIONAL TRAILS PROGRAM (RTP) PLEASE FOLLOW THE FOLLOWING LINKS FOR DETAILS
2018 Bikeway and Trail Maps are now available!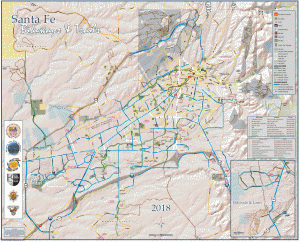 Click on Above Image for more details
       ———————————————————-
———————————————————-
————————————————
MPO MEETINGS
————————————————TRANSPORTATION POLICY BOARD
 Next Meeting
Thursday May 24, 2018 @ 5:00PMCity of Santa Fe Market Station Offices
500 Market Street, Suite 200

  ————————————————TECHNICAL COORDINATING COMMITTEE Next MeetingTuesday May 21, 2018 @ 1:30PMCity of Santa Fe Market Station Offices500 Market Street, Suite 200
——————————————— *** – 2018 TPB and TCC Meeting Schedule – ***
----------------------------------------------------
 ————————–
UPCOMING MEETINGS/EVENTS

Check Back
———–————————————————
PAST MEETING/EVENT INFORMATION
———————————————–———–————————————————
  UPCOMING FREE WEBINARS  
CHECK BACK
————————————————  
 Please see our CALENDAR for Other Events  
Mailing Address: P.O. Box 909 Santa Fe, NM  87504-0909Office Address:500 Market Street, Suite 200 (Doorway to the left of REI Store) Santa Fe, NM
Map: http://tinyurl.com/l6kejeq
Directions & Parking: http://www.railyardsantafe.com/north-railyard/
Phone: (505) 955-6614
Email: santafempo@santafenm.gov
Office Hours 8:00 am – 5:00 pm Monday – Friday  

      Find Us on Facebook    Follow us on Twitter 
Page Last Updated – November 27, 2017