Find Us on Facebook  

  Follow us on Twitter
MPO ANNOUNCEMENTS
15 DAY PUBLIC COMMENT OPEN ON AMENDMENT 3 TO THE 2018 – 2023 SANTA FE MPO TRANSPORTATION INPROVEMENT PROGRAM WITH THE FOLLOWING PROPOSED AMENDMENTS:
Public Comment Period: 5/3/18 – 5/18/18
TCC Review and Recommendation: 5/21/18
Policy Board Public Hearing and Action: 5/24/18
S100520 I-25 CANONCITO [NMDOT LEAD] – COLD MILLING AND HMA INLAY OF TRAVEL LANES AND SHOULDERS WITH REPLACEMENT OF EXISTING GUARDRAIL TO COMPLY WITH CURRENT GUARDRAIL DESIGN REQUIREMENTS.
Amendment: Increasing funding by $1,270,025.00
S100121 Santa Fe County NE Connector –

ROW ACQUISITION, DESIGN AND CONSTRUCTION OF A NEW SECTION OF ROADWAY AND UPGRADE OF EXISTING ROADWAY.
Amendment: Increase funding by $145,600; Total: $1,000,000
S100430 NM 599/US285 Ramp-

LENGTHEN SB ON-RAMP FROM NM599 TO US84/285
Amendment: Move project to FY 2021; Total: $800,000 
S100440 NM 466 (St. Michaels)-

STUDY, DESIGN AND CONSTRUCTION OF THE ST FRANCIS DR/ST MICHAELS DR INTERCHANGE; RAIL TRAIL UNDERPASS DESIGN AND UNDERPASS; PEDESTRIAN ADA IMPROVEMENTS; ROAD DIET STUDY, PAVEMENT PRESERVATION.
Amendment: Funding for Design $1,000,000; Increase construction by $10,040,210; Total: $15,540,210
REQUEST FOR NEW PROJECTS   
S100441 NM 466 (St. Michaels) ‐ ST MICHAELS RAIL TRAIL PEDESTRIAN CROSSING  
Amendment: Funding for Construction $3,135,000
The approved TIP can be downloaded from the Santa Fe MPO Website at: http://santafempo.org/documents/tip/
ACCESS LOCAL, REGIONAL AND STATEWIDE TRANSPORTATION IMPROVEMENT PROJECTS VIA THE "eSTIP" OR ELECTRONIC STATE TRANSPORTATION IMPROVEMENT PROGRAM
If you have any proposed changes or new projects you wish included as part of this amendment, please contact me no later than noon on Friday April 20th.    
2018 Bikeway and Trail Maps are now available!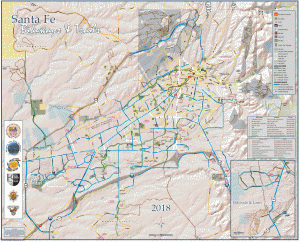 Click on Above Image for more details
       ———————————————————-
———————————————————-
————————————————
MPO MEETINGS
————————————————
 Next Meeting
Thursday May 24, 2018 @ 5:00PM

City of Santa Fe Market Station Offices
500 Market Street, Suite 200



 

  
————————————————
 Next Meeting
Tuesday May 21, 2018 @ 1:30PM
City of Santa Fe Market Station Offices
500 Market Street, Suite 200

 ———————————————

----------------------------------------------------
 ————————–
UPCOMING MEETINGS/EVENTS

Check Back
  UPCOMING FREE WEBINARS  
CHECK BACK
————————————————  
 

Please see our CALENDAR for Other Events  
Mailing Address: P.O. Box 909 Santa Fe, NM  87504-0909
Office Address:
500 Market Street, Suite 200
(Doorway to the left of REI Store)
Map: http://tinyurl.com/l6kejeq
Directions & Parking: http://www.railyardsantafe.com/north-railyard/
Phone: (505) 955-6614
Email: santafempo@santafenm.gov
Office Hours 8:00 am – 5:00 pm Monday – Friday  
    Find Us on Facebook  

  Follow us on Twitter 
Page Last Updated – November 27, 2017