TIP AMENDMENT 3 CALL FOR AMENDMENTS APRIL 9TH, 2018
Deadline April 20TH, 12PM
The FFY2018-2023 TIP was approved by FHWA and FTA on September 29, 2017 and took effect on October 1st, 2017.
Amendment 1 was approved on November 30th, 2017
Amendment 2 was approved on April 4th, 2018
The approved TIP can be downloaded from the Santa Fe MPO Website at: https://santafempo.org/documents/tip/
It is now time to start the process of preparing Amendment 3 to the FFY2018-2023 TIP.
If you have any proposed changes or new projects you wish included as part of this amendment, please contact me no later than noon on Friday April 20th.
The proposed schedule for this Amendment is as follows:
4/9 – Call for Amendments
4/20 – Deadline to submit proposed Amendments
4/23 – Present Draft Amendment to TCC
5/3 – Deadline for Release for Public Review and Comment
5/18 – Deadline to Close Public Review
5/21 – TCC reviews public comment and makes Recommendation (Please note the TCC will meet on Tuesday, Feb. 20th due to Presidents Day falling on Monday Feb. 19th)
5/24 – TPB holds Public Hearing and takes action
FHWA/FTA will Approve the Amendments by early July.
TIP AMENDMENT #2 WAS APPROVED BY THE SFMPO POLICY BOARD ON FEB. 22ND 2018 AND APPROVED BY FHWA ON APRIL 4TH 2018
You may access the Self Certification for Amendment #2 by clicking image below: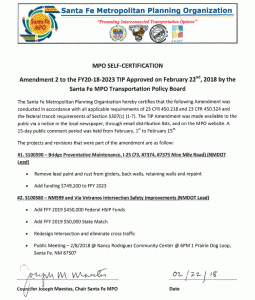 AMENDMENT 2 INCLUDES THE FOLLOWING PROJECTS:
#1. s100590 – Bridge Preventative Maintenance, I-25 (73, #7374, #7375 Nine Mile Road) (NMDOT Lead)
Remove lead paint and rust from girders, back walls, retaining walls and repaint
Add funding $749,200 to FFY 2023
#2. S100580 – NM599 and Via Vetranos Intersection Safety Improvements (NMDOT Lead)
Add FFY 2019 $450,000 Federal HSIP Funds
Add FFY 2019 $50,000 State Match
Redesign Intersection and eliminate cross traffic
Public Meeting – 2/8/2018 @ Nancy Rodriguez Community Center @ 6PM

1 Prairie Dog Loop, Santa Fe, NM 87507
The Public Comment Period ran from February
1, 2018 through February 15, 2018.
  The MPO 
Technical Coordinating Committee 
reviewed and recommended approval of the proposed amendment at their meeting on February 20, 2018 and the MPO 
Transportation Policy Board 
approved the Amendment at a Public Hearing on the proposed amendment at their meeting on February 22, 2018.
The Santa Fe MPO's public participation process satisfies the public participation process for the Santa Fe Trails' Program of Projects.
For more information, if you have questions, or wish to submit written comment, please contact:
Erick Aune
, MPO Transportation Planner 505-955-6664
Written comments can also be mailed to: Erick Aune MPO Transportation Planner Santa Fe Metropolitan Planning Organization P.O. Box 909 Santa Fe, NM87504-0909