PEDESTRIAN MASTER PLAN

The Santa Fe Metropolitan Planning Organization (MPO) is generating a pedestrian master plan for the greater Santa Fe area. The Pedestrian Master Plan will outline a vision for existing and future sidewalk connectivity that addresses community desires and needs.
Last fall, 8 public input meetings were held across the MPO Planning Area to collect feedback on improvements needed to make walking a viable transportation option. Additionally, a survey was available and over 800 surveys were completed.  The document below summarizes the public input.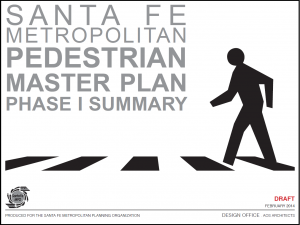 This summer, the Pedestrian Master Plan Working Group helped identify improvement projects, policy recommendations, and a rating system to prioritize improvements.  Below are the presentations from those working group meetings.
If you have questions or would like to send in comments, please email them to: santafePMP@do-designoffice.com
——————————————————
Dan Burden/Robert Ping WALC Institute Santa Fe Visit Follow-up
Click the following link to view the text memo the WALC Institute prepared following their visit
TEXT MEMO
Click the following link to view a video of the Dan Burden/Robert Ping May 14 Presentation at the Convention Center
YOUTUBE VIDEO
——————————————————–
    Find Us on Facebook  

  Follow us on Twitter
Page Last Updated – October 31, 2014