BICYCLE MASTER PLAN
2018 BICYCLE MASTER PLAN UPDATE
The Santa Fe MPO is currently updating the 2012 Bicycle Master Plan by including a new on-line web-based mapping platform. This new platform will allow the public and decision makers to identify specific projects (existing/in the works/proposed) identified in the plan. The below image is an example of what this will look like. You may seek out a specific project, click on it and view a list of details. Alternatively you may query the site for a project and find it on the map. The map will also have multiple information layers with options to view in street map mode or imagery mode. We will also be updating the list of projects, adding a section on design standards/best management practices and updating the content of the document. If you would like to provide input or get involved with this update please contact Erick Aune, MPO Senior Planner at ejaune@santafenm.gov. Thank you.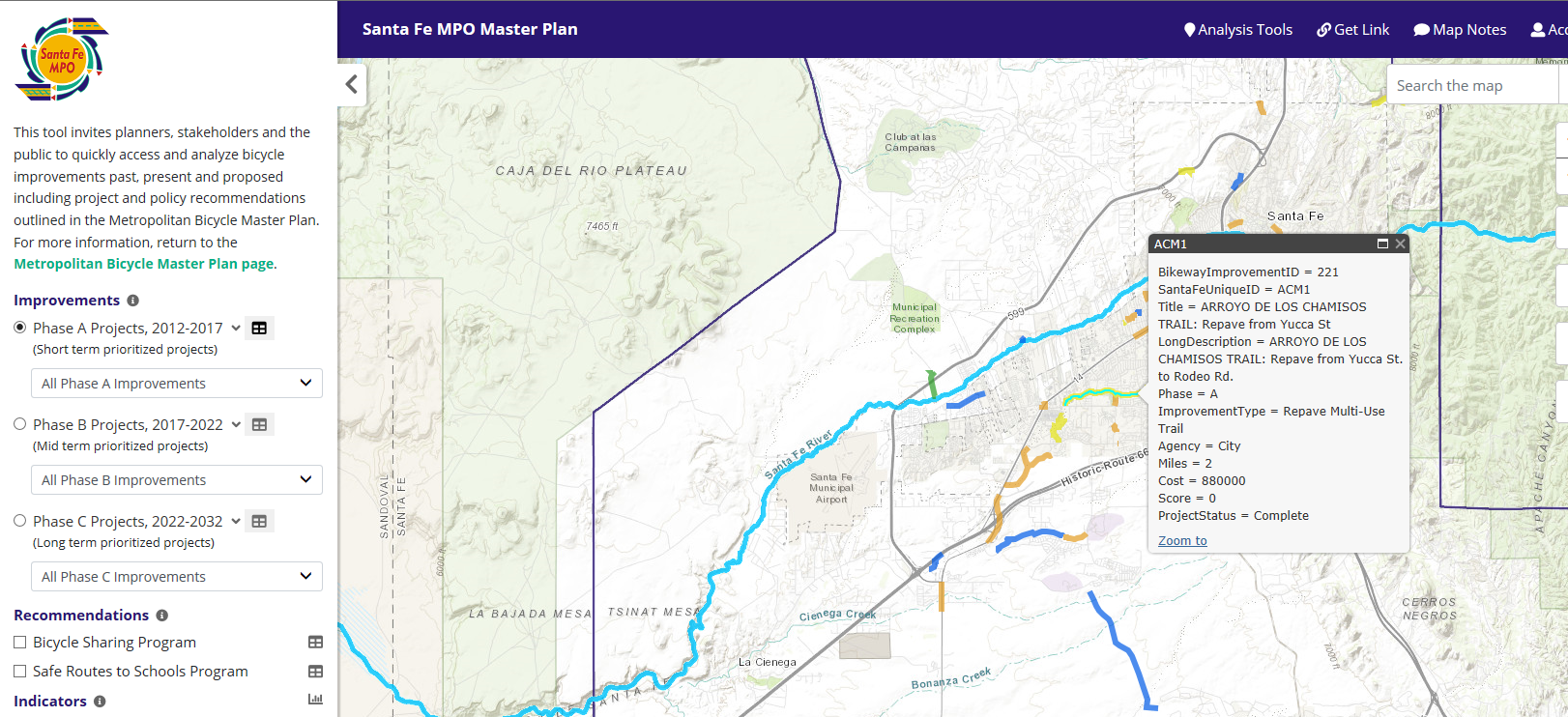 The Santa FE MPO Transportation Policy Board Approved the Santa Fe Metropolitan Bicycle Master Plan on April 12th, 2012 and is available for download below.
The Metropolitan Bicycle Master Plan is for the Santa Fe metropolitan area.  This Plan serves to coordinate investments in Multi-use Trails and On-Road facilities, establish common guidelines for design, construction and maintenance, and develop shared strategies on education, enforcement and encouragement of bicycling as a transportation choice in the Santa Fe area.
Hard copies of this document are available for review at the following public libraries:
Main Library – 145 Washington Ave
La Farge Library – 1730 Llano St.
Southside library – 6599 Jaguar Dr. 
Hard copies are also available for review at the MPO office located at:    City of Santa Fe Offices @ Market Station
For more information or if you have questions, please contact:
Erick J. Aune, MPO Senior Planner 505-955-6664
——————————————-
BIKEWAYS MAPPING PROJECT
The Bikeways Mapping Project was conducted during the first phase in the development of the Bicycle Master Plan.  The project identifies a system of major multi-use paths and significant roadways that may comprise an "arterial bikeway" system in the MPO area.  Possible improvements to these bikeways, and connections to them and between them, were analyzed and prioritized  with respect to each segment's contribution toward system connectivity, anticipated local demand basedon land use, specific safety advantages, and feasibility.  The list of priorities for trail and road improvements from this project were finalized during the development of the Master Plan.
——————————————-
SANTA FE BIKEWAYS & TRAILS MAP
The Santa Fe MPO seeks to make bicycling a safer and more convenient form of everyday transportation for citizens and visitors.  Santa Fe is an ideal bicycling environment due to its compact size, moderate terrian, and pleasant weather.  A bicyle offers an alternative travel choice for those concerned about the environment, and requires relatively little infrastructure.  In addition, bicyles can have travel times comparable with automobiles for short distances and are less expensive to own and operate than automobiles.
The Santa Fe Bikeways and Trails Map was created through public input to show the perceived suitability of on-street facilities for bicycling.  The conditions at specific locations are subjective, always changing, and may vary from what is shown on the map.  Please use the map as a community-based guidance to help you select a bicycling route that meets your needs and skill level.  Always use caution to evaluate the current roadway conditions.
2018 Bikeways and Trails Map
Printed copies of the Map are available at the MPO Offices, City Hall (City Managers Office), Main, La Farge & Southside Library's, All Area Bike Shops, Santa Fe Convention & Visiors Bureau, New Mexico State Convention and Visitors Bureau and Santa Fe Chamber of Commerce. Click on images below to download.
Contact
Erick J. Aune  MPO Senior Planner
505-955-6664
Page Last Updated – May 8, 2015